ACE Mentor Program
This morning Monica Worheide, Director, Regional Programs (Central), presented information about the ACE Mentor Program to ACEC/Nebraska members and our construction partners.
The ACE Mentor Program is a national organization with a presence in more than two hundred cities in America – from New York to Los Angeles, Seattle to Miami, Chicago to Dallas – and is still growing. For more information click here ACE Mentor Program
The mission of the ACE Mentor Program is to engage, excite and enlighten high school students to pursue careers in architecture, engineering, and construction through mentoring and to support their continued advancement in the industry.  A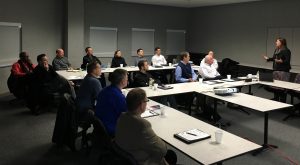 CE provides organized, industry-wide approaches to increasing youth interest and engagement throughout the entire construction industry.