The ACEC Board of Directors is honored to announce that the recipient of the Charles Durham Achievement Award this year is John S. Olsson, Executive Vice President of Olsson Inc.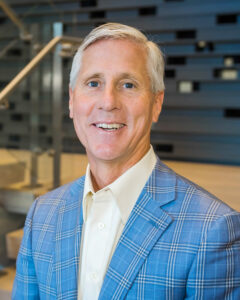 As EVP for consulting services, Olsson works with teams throughout the firm to identity and prioritize large public sector clients and projects, and works with Olsson's practice leaders to enhance the firm's standing at the municipal and state level.
Olsson has served in several leadership roles since he joined the firm in 1989. He was named leader of the Civil Municipal team in 2001, became the firm's Lincoln office leader in 2007 and two years later was selected to serve on the first firmwide operations team.
Olsson exemplifies the firm's community focused values through his involvement in various nonprofit and civic organizations. He served as president for the Nebraska Society of Professional Engineers and was a past director for ACEC Nebraska.
In 2015, Olsson helped establish the Olsson Foundation, a 501(c)(3) private foundation that supports education, communities and the environment.
John graduated with a Bachelor of Science degree in civil engineering from the Colorado School of Mines and earned a master's degree in engineering from the University of Nebraska-Lincoln.
He is the son of the firm's founder, John E. Olsson.
The Charles Durham Achievement Award was created to honor Charles Durham's leadership in the engineering profession and his community stewardship through civic involvement. Durham served as chairman and CEO of Henningson, Durham and Richardson, (HDR) the international engineering and architectural firm headquartered in Omaha. Over the years, he and his wife Marge were active in their community serving in leadership roles with many community organizations and donating millions of dollars to worthy causes.