HDR Global Headquarters has been named the ACEC-Nebraska Engineering Excellence Award (EEA) Grand Award winner for 2020.
Headquartered in Omaha since 1917, global design firm HDR sought a new headquarters building that reflected the talents and skills of its architects, engineers, and planners. HDR partnered with owner Noddle Companies to design a 10-story, 240,000-square-foot multi-use office building located in the mixed-use Aksarben Village neighborhood. The end result is a striking building whose design respects its context and fosters collaboration—and in which engineering plays a significant role.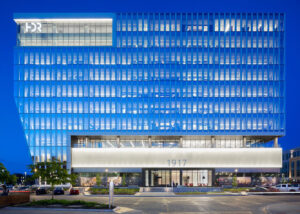 This project illustrates the importance of engaging all parties early in the design process. The building's unique form is chamfered at the corners to maximize square footage on upper floors while opening walkable space on the ground level to activate engagement with the surrounding neighborhood. Rather than having "front" and"back" sides, space that would have typically been used for a loading dock was reimagined as a retail alley.
HDR committed to a rigorous, integrated design process, which resulted in the building's LEED New Construction v4 Gold-level rating. Specific performance achievements include:
68% Energy Use Intensity reduction compared to the regional average
31% water use reduction
87% irrigation reduction
Lighting Power Density that is 38% better than code
Estimated 15% Material Carbon Impact reduction over a comparable building
Saving over 67 tons of steel by using SidePlate® steel connections, a first in Nebraska.
The building earned a three-star rating from Fitwel—the highest rating possible for this certification that optimizes buildings to support occupant health.