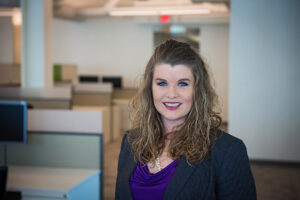 Brittni Yates, a professional engineer with Olsson, has been named the 2021 Young Professional of the Year by the American Council of Engineering Companies of Nebraska.
Yates, a technical leader on Olsson's Nebraska Water/Wastewater team, earned a bachelor's degree in civil engineering and a master's degree in environmental engineering from South Dakota State University. She has been with Olsson since 2018 and has extensive experience providing project management, planning, engineering design, and construction management services for water quality and water treatment projects. At Olsson, she is responsible for managing and leading key client accounts, organizing technical resources for projects, directing team members on design approaches, and promoting efficiencies in producing quality work.
"I believe in living life with purpose, passion, and inquisitiveness," she said. "I value travel and global awareness, and I'm committed to learning as much as I can about water quality and treatment. These passions came together when I traveled to several countries as part of nonprofit organizations. Experiences like these helped me see how I could use my talents—my technical expertise and my ability to connect with people—to help others."
Yates's industry involvement includes serving as president, past president, vice president, and board member of the Engineers Club of Omaha; serving on public communication and outreach committees with the Water Environment Federation; and leading committees for the Nebraska Water Environment Association. She is also actively involved with the Nebraska chapter of the American Water Works Association, Engineers Without Borders, and the Alpha Omega Epsilon Engineering Sorority at South Dakota State.