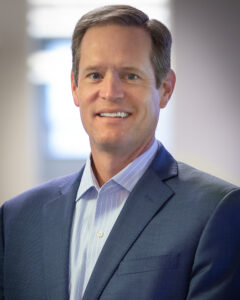 Steve D. Kathol, president and CEO of Schemmer, is this year's recipient of the Charles Durham Achievement Award given by ACEC Nebraska.
The award honors Charles Durham's leadership in the engineering profession and his community stewardship through civic involvement. Durham served as chairman and CEO of Henningson, Durham and Richardson (HDR), the Omaha-based international engineering and architectural firm.
As president and CEO, Kathol is responsible for leadership, strategic vision, and building corporate culture across all Schemmer offices. His leadership approach and philosophies focus on an open-book management style, encouraging every employee to understand the company's vision, strategy, and financial progress, thus creating a culture of ownership and empowering employees to go above and beyond to help Schemmer clients reach their goals. He fosters and supports a sense of community both inside and outside the walls of the organization.
Kathol has served in several leadership roles since joining the firm in 1994. He was named bridge department manager in 2001, elected to the Schemmer board of directors in 2006, named transportation group leader in 2010, and elected Schemmer president and CEO in 2014. He is Schemmer's fifth president and CEO since the firm's inception in 1959.
Steve is active in ACEC Nebraska, having served as state director in 2010, president in 2013-2014, and national director in 2015-2016. He is a member of the American Society of Civil Engineers and served as the Nebraska Chapter President in 2006. Steve is also a member of the Nebraska Society of Professional Engineers.
Schemmer encourages our professionals to connect with causes they care about. Steve exemplifies this in his commitment to the Boys Town Booster Club and his work as a board member with both the Boy Scouts of America Mid-America Council and the ACE Mentor Program of Greater Omaha.
Kathol is a graduate of the University of Nebraska-Lincoln, earning a bachelor of science in civil engineering and a master of science in structural engineering. Steve is licensed as a professional engineer in nine states.