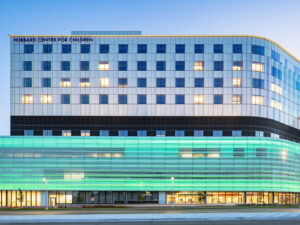 GRAND AWARD: HDR | Children's Hospital Hubbard Center for Children
Client: Children's Hospital & Medical Center
HDR has been named the ACEC-Nebraska Engineering Excellence Award (EEA) Grand Award winner for 2022.
The Children's Hospital and Medical Center is a regional pediatric hospital in Omaha, NE. The new Hubbard Center for Children doubles the programmable space of the hospital and expands the Emergency Department, the Surgery Suite, PICU, NICU, Central Sterile, and Radiology. The Hubbard Center for Children also provides a new dining and cafeteria for the whole campus, new meeting space for learning and continuing education, new chapel space, a new patient check-in/check-out, new outdoor gardens, and solarium to enhance the Center's healing environment.
The construction of the new hospital tower consists of a 427,000 SF, nine-story structural steel frame and concrete slabs on metal deck with a unitized curtain wall envelope that ties into the existing hospital and specialty pediatric clinic on seven floors. The mechanical systems include a new Central Utility Plant that services the new tower, the existing hospital, and the Specialty Pediatric Clinic. The patient rooms and public spaces are mechanically tempered with new Air Handling Units utilizing chilled water, steam, heating hot water and controlled by a building automation system. The electrical systems include power, emergency power, critical power, security systems (CCTV and access control), nurse call, building automation, and fire alarm.
The project was procured under an Integrated Project Delivery contract. The group worked collaboratively through design and preconstruction to provide real-time estimating and target value design to create over $50 million in cost savings and 40 days in schedule duration savings with no impact to the project's program.