The American Council of Engineering Companies of Nebraska, ACEC/Nebraska provides private engineering firms with the tools and educational opportunities to be better business owners and managers.
Proud Members
ACEC/Nebraska represents over 45 consulting engineering firms doing business in Nebraska. We are the only organization devoted exclusively to the business and advocacy interests of engineering companies.  Our members are engaged in a wide range of engineering and construction projects that propel the nation's economy and enhance and safeguard America's quality of life.
Please contact ACEC/Nebraska today to find out how you can join and help promote Nebraska's engineering industry.  Call 402-476-2572.
ACEC/Nebraska's
2013-2014 Directory
ACEC/Nebraska Supports Congressman Adrian Smith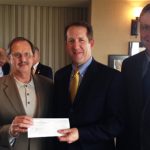 Congressman Adrian Smith (R-NE) (center), who sits on the House Ways and Means Committee, with ACEC/Nebraska PAC Champion Ron Bottorff of JEO Consulting Group, Inc., and Tony Dirks of Alfred Benesch & Company.
2014 Engineering Excellence Awards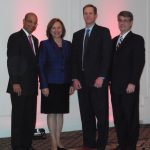 Regarded as the Academy Awards of the engineering industry, the Engineering Excellence Awards Banquet was held at Happy Hollow Country Club. The entries showcased our firms' talents and expertise. U.S. Senator Deb Fischer addressed the group speaking of the importance of the ACEC's work at the National Level and thanked those present for their continued support. Also speaking was Manish Kothari, Vice Chairman ACEC National Board of Directors, bringing greetings from the national office and also outlining ACEC National policy initiatives. Congressman Lee Terry was in attendance and supported Senator Deb Fischer's comments. It was an honor to have Senator Fischer, Congressman Terry, Manish Kothari and Steve Kathol present the awards to this years winners.
Congratulations to all the award winners and their clients
CLICK HERE FOR THE 2014 AWARD WINNERS
ACEC's Trust Programs are designed to enhance your membership investment by helping to control your firm's costs. Programs are available for business insurance, life/health insurance, and retirement plans.
Life Health Trust                  Retirement Trust
Business Insurance
2014 ACEC National Young Professional of the Year & 2014 Engineers Week New Faces of Engineering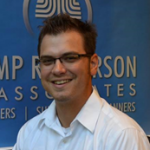 ACEC Nebraska's Young Professional winner from last year, Joe Flaxbeard with Lamp Rynearson & Associates, has been selected as a recipient of the 2014 ACEC "Young Professional of the Year" national award.  In addition, Joe will be featured as ACEC's representative for the "New Faces of Engineering".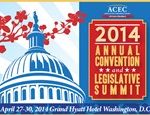 2014 Annual Convention & Legislative Summit 
Click here to view the events calendar
2014-2015 Membership Certification
ACEC Member Benefits
Protects your interests in the Legislature
Sponsors seminars, conferences and workshop
Liaison with state and local agencies
Cost-saving benefit programs
Promotes our industry
Publishes an annual directory
Become a Member
Click here to find more information on how to become an ACEC/N member firm.
Our Board of Directors review all membership applications at the Board Meetings.   Click here to start your applications process.
ACEC's Accomplishments
Click the video to hear Senator Ben Nelson's comments on ACEC's accomplishments and the contributions of the engineering industry. (click on movie) 
2011 ACEC/PAC Award
Greg Knopp, Executive Director of the ACEC National Political Action Committee presented the Outstanding Achievement Award In Recognition of Attaining the 2011 PAC Goal to ACEC Nebraska President, John S. Olsson and ACEC Nebraska President Elect, Jack Baker during the ACEC National Conference in Washington, D.C.