The American Council of Engineering Companies of Nebraska, ACEC/Nebraska provides private engineering firms with the tools and educational opportunities to be better business owners and managers.
Proud Members
ACEC/Nebraska represents over 45 consulting engineering firms doing business in Nebraska. We are the only organization devoted exclusively to the business and advocacy interests of engineering companies.  Our members are engaged in a wide range of engineering and construction projects that propel the nation's economy and enhance and safeguard America's quality of life.
Please contact ACEC/Nebraska today to find out how you can join and help promote Nebraska's engineering industry.  Call 402-476-2572.

ACEC/Nebraska's
2012-2013 Directory
CONGRATULATIONS to the
2013 ENGINEERING EXCELLENCE
GRAND AWARD WINNER
SCHEMMER ASSOCIATES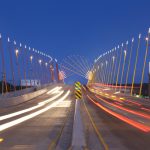 IDOT U.S. 6 BROADWAY VIADUCT
for the Iowa Department of Transportation 

CLICK HERE FOR ALL AWARD WINNERS
 
ACEC's Trust Programs are designed to enhance your membership investment by helping to control your firm's costs. Programs are available for business insurance, life/health insurance, and retirement plans.
Life Health Trust                  Retirement Trust
Business Insurance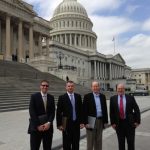 ACEC Nebraska members on Capitol Hill included Jack Baker, Baker & Associates; Rob Brigham, JEO Consulting; Mike McMeekin, Lamp Rynearson & Associates; Marty Wiedenman, Performance Engineering.  Time was spent with Senators Johanns and Fischer and Congressman Terry.  They discussed the ACEC national agenda as well as concerns that were specific to our Nebraska members.
 
REMINDER…April 25th is the due date for
the 2013-2014 Certification Forms.
ACEC Member Benefits
Protects your interests in the Legislature
Sponsors seminars, conferences and workshop
Liaison with state and local agencies
Cost-saving benefit programs
Promotes our industry
Publishes an annual directory
Become a Member
Click here to find more information on how to become an ACEC/N member firm.
Our Board of Directors review all membership applications at the Board Meetings.   Click here to start your applications process.
ACEC's Accomplishments
Click the video to hear Senator Ben Nelson's comments on ACEC's accomplishments and the contributions of the engineering industry. (click on movie) 
2011 ACEC/PAC Award
Greg Knopp, Executive Director of the ACEC National Political Action Committee presented the Outstanding Achievement Award In Recognition of Attaining the 2011 PAC Goal to ACEC Nebraska President, John S. Olsson and ACEC Nebraska President Elect, Jack Baker during the ACEC National Conference in Washington, D.C.